'Lost Caravaggio' found in French attic causes rift in art world
Apr 13, 2016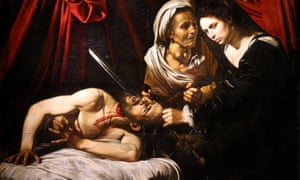 It could turn out to be an Italian Renaissance masterpiece by one of history's greatest painters; yet the mysterious 400-year-old canvas was only found by accident when the owners of a house near Toulouse went to fix a leak in the ceiling.
The large, remarkably well-preserved canvas of the beheading of the general Holofernes by Judith, from the apocryphal Book of Judith, was painted between 1600 and 1610, specialists estimate. And many experts believe it could be a work by the Milan-born master, Caravaggio.
Labelled the Caravaggio in the attic, France has put an export ban on the painting to stop it leaving the country while investigations are carried out.
Speaking to reporters, the painting expert Eric Turquin said it could be worth as much as €120m (£96m), describing the work as having "the light, the energy, typical of Caravaggio, without mistakes, done with a sure hand and a pictorial style that makes it authentic".
While other specialists have questioned its provenance, Turquin got the backing of a top Caravaggio expert, Nicola Spinoza, former director of the Naples museum. In an expert assessment seen by Agence France-Presse, Spinoza wrote: "One has to recognise the canvas in question as a true original of the Lombard master, almost certainly identifiable, even if we do not have any tangible or irrefutable proof."
Continue reading main story: http://www.theguardian.com/artanddesign/2016/apr/12/lost-caravaggio-causes-rift-in-art-world