The world has its largest orchestra: here's the record-breaking symphonic cacophony from the Commerzbank Arena stadium in Frankfurt.
image: http://assets2.classicfm.com/2016/28/worlds-biggest-orchestra-frankfurt-1468232735-article-0.png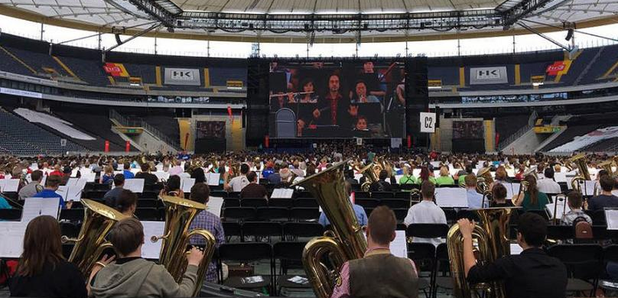 On Saturday, 7,548 musicians assembled in a Frankfurt sports stadium to smash the world record for largest musical ensemble.
The mastermind of the event, trumpeter Jens Illemann said, "we wanted to show how music can connect people, and how important it is for Germany."
The orchestra performed the 9th symphonies of Dvorak andBeethoven, as well as lighter numbers by Andrew Lloyd Webber and pop music composer John Miles.
And here's what it sounded like: