I'm A Deaf Actor, And I Don't Want It To Define The Roles I Play
Sep 9, 2016
Posted: Sep. 09, 2016 12:00 pm
Genevieve Barr: "It's an incredibly limiting way to live and to work. And because I have a disability that I cannot hide (or fully disguise), that means I stay firmly in the bracket of 'deaf actor', rather than 'actor'. In the rigidity of the casting process, that can mean fewer than 10 auditions per year. … I can lip-read and hear with the use of hearing aids. Not as clearly as you, mind, but unlike you, I can crank up the volume. If my back is turned and you're talking to me, I am probably not deliberately ignoring you. If you call out 'house lights going dark' and forget to tell me, I may fall off the stage. Working with me doesn't sound so terrible, does it?"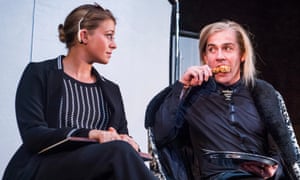 When you meet the playwright and director Anthony Neilson, he tells you all the reasons you should not work with him. He is quite emphatic when he tells you that he inspires a searing loathing from actors who are subjected to his rehearsal process. Anthony takes a group of actors and an original premise and carves out a play over the course of six weeks. It is the very essence of live theatre – much is improvised and quite often actors are given rewrites just hours before coming on stage.
Having just been in his new play Unreachable at the Royal Court, I know Anthony's warning is not wrong – it's an extraordinarily frustrating and anxiety-fuelled vortex you are thrown into. You come out the other side a little uncertain of what's just happened.
On top of that, being an actor with a disability means industry folk can be a little cagey about subjecting you to anything that could be interpreted as cruel. Or difficult. Let alone inappropriate. We are in an age of political correctness – a blessing in parts, but also a curse. When I went to meet Anthony one sunny afternoon at the Royal Court, it could have gone either way.
Intriguingly, any reluctance he showed seemed to be more due to a concern that there would be a process of pussyfooting, whereby other actors would attempt to be extra nice to the poor little deaf girl. My deafness was potentially an unnecessary distraction from what we were there to do. It was refreshing to hear my disability being described as an inconvenience – but for all the right reasons.
Read More: https://www.theguardian.com/stage/2016/sep/08/deaf-actor-theatre-roles