Ringling Bros. Circus Wasn't Just A Show, It Was A Major Logistical Feat
May 23, 2017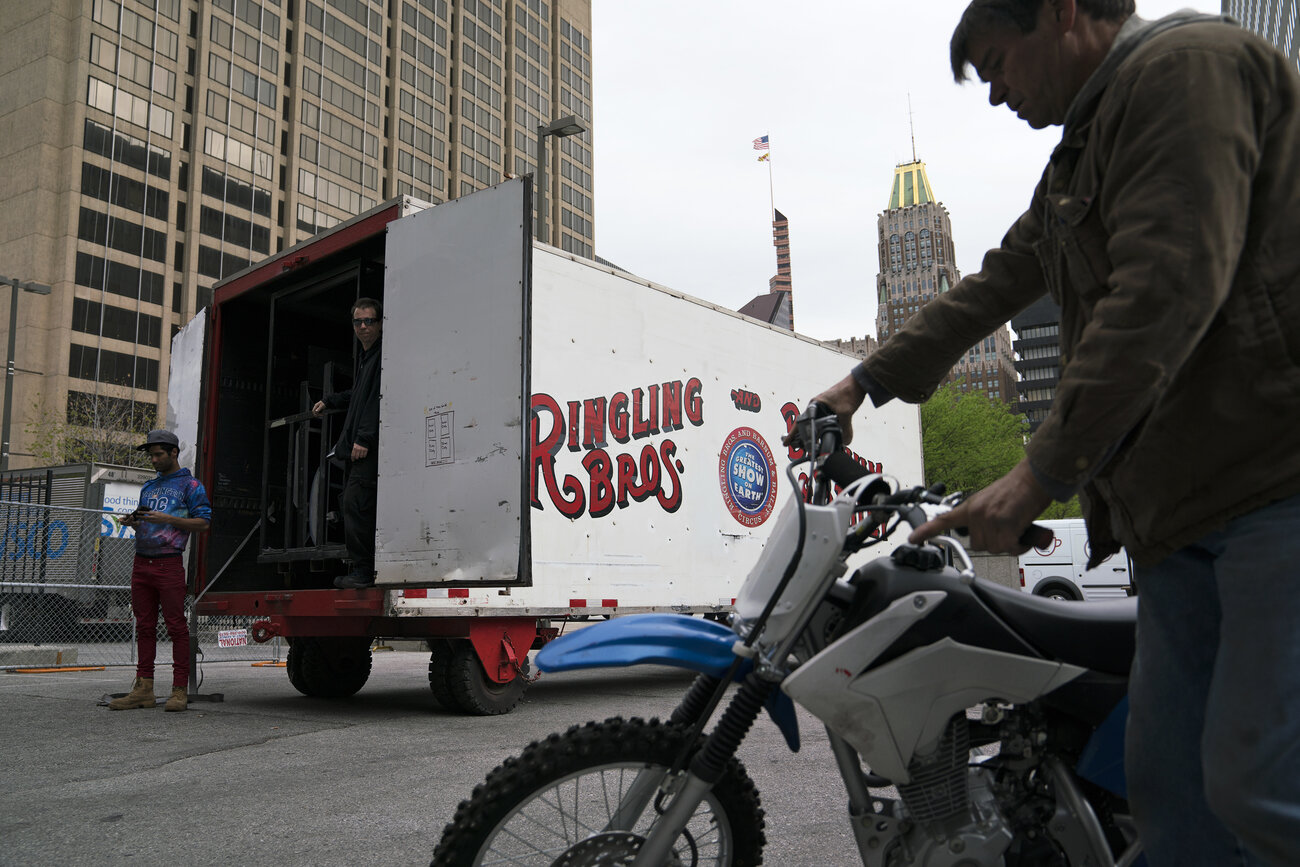 A Ringling Bros. and Barnum & Bailey's circus truck is unloaded as the "Out of this World" show is set up at the Royal Farms Arena in Baltimore. This was one of the last few stops on the circus's final tour. - Claire Harbage/NPR
On the steps above the makeshift stables, the circus priest is getting nostalgic.
"I did a baptism once in Fort Worth, Texas. ... I came in on an elephant carrying the baby, which was four weeks old," the Rev. Jerry Hogan says. "Now that baby is 15. I've married a lot of these kids and I've baptized their kids, and watched them grow."
It's late April at Baltimore's Royal Farms Arena, in the closing weeks of the Ringling Bros. and Barnum & Bailey's "Out of This World" tour.
The last-ever show is Sunday night in Uniondale, N.Y. The circus isn't profitable any more, according to the company that runs it. And especially once the elephants were gone — after public battles with animal rights activists — ticket sales just couldn't keep it afloat.
That means the end of the famous traveling circus show, with a ringmaster and big cats and clowns and trapeze acts ... the stuff of nostalgia for generations.
But it's the end of much more than just a show, Hogan says.
"The performance is 2 1/2 hours," he says, as horses are saddled and kids carried past us to the nursery. "The circus is the whole experience."
It's baptisms on elephants, pies in the face on birthdays, raising a family on the circus train as the American landscape rolls by. And it's spectacular acts of skill in the rings and outside them — a logistical feat polished over 146 years and preparing for the final curtain call.
'A city that folds itself up like an umbrella'
"The Greatest Show on Earth" started in 1871 as a traveling museum and menagerie under the imprimatur of P.T. Barnum.
In 1895, the magazine McClure's wrote that "man's intelligence has devised nothing more compact, more orderly, more admirably adapted to its purpose, than the train of a great modern circus":
"It is a kingdom on wheels, a city that folds itself up like an umbrella. Quickly and swiftly every night it does the work of Aladdin's lamp, picking up in its magician's arms theatre, hotel, schoolroom, barracks, home, whisking them all miles away and setting them down before sunrise in a new place."
More than a century later, little has changed. The circus still rolls across the country carrying hundreds of performers, stagehands and children in a mile-long train. These days, they call it a "town without a ZIP code."
READ MORE: http://www.npr.org/sections/thetwo-way/2017/05/20/528778286/a-kingdom-on-wheels-the-hidden-world-that-made-the-circus-happen