Banksy offers Bristol electorate free print if they vote against Tories
Jun 5, 2017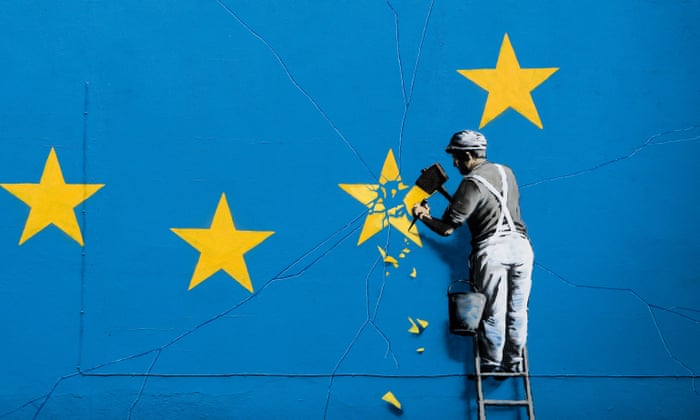 Banksy's Brexit mural, which appeared near the port of Dover in May. Photograph: Bloomberg/Bloomberg via Getty
Graffiti artist Banksy has offered voters a free limited edition print if they vote for anyone other than the Conservatives this Thursday.
The anonymous artist made the offer to voters in the Bristol North West, BristolWest, North Somerset, Thornbury and Yate, Kingswood, and Filton and Bradley Stoke constituencies.
Banksy posted the offer on his website on Saturday.
"Simply send in a photo of your ballot paper from polling day showing you voted against the Conservative incumbent and this complimentary gift will be mailed to you," he wrote.
A legal note beneath the post insists that the offer is not meant to be seen as a form of bribery toward potential voters.
The disclaimer states: "This print is a souvenir piece of campaign material, it is in no way meant to influence the choices of the electorate, has no monetary value, is for amusement purposes only and is strictly not for resale. Terms and conditions to follow, postage not included."
However, the Bristolian does not warn fans about the legal risks of breaching election secrecy laws by taking pictures of a ballot paper. There are strict rules around the voter secrecy under the Representation of the People Act.
The law states: "No person shall directly or indirectly induce a voter to display his ballot paper after he has marked it so as to make known to any person the name of the candidate for whom he has or has not voted or as to the number on the back of the ballot paper given to the voter at that station."
Fearing that selfie-taking voters would accidentally breach these rules, last year the Electoral Commission issued a stern warning about ballot selfies before the EU referendum.
READ MORE: https://www.theguardian.com/artanddesign/2017/jun/03/banksy-offers-bristol-electorate-free-print-if-they-vote-against-tories#img-1