Forger Arrested For Selling Fake Damien Hirst Prints – For The Third Time
Jun 20, 2017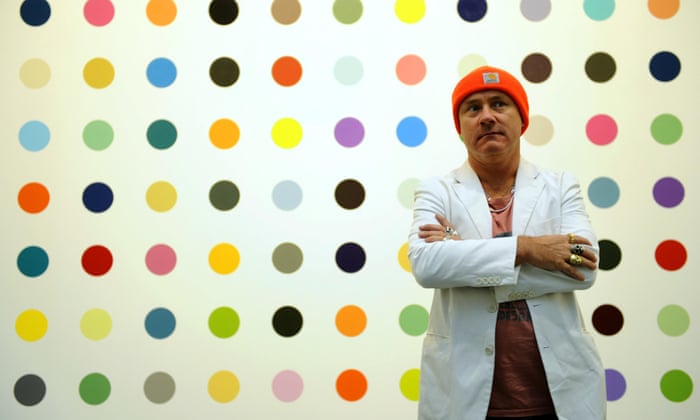 Damien Hirst in 2012 standing in front of one of his paintings at the Gagosian Gallery in New York. Photograph: Timothy A. Clary/AFP/Getty Images
Three men were charged in New York on Monday with making counterfeit Damien Hirst prints which they sold on for more than $400,000.
The fake "limited-edition" Hirst prints were sold online to dozens of art buyers around the world, according to Manhattan district attorney Cyrus Vance. The group included a man who had been released from prison only 15 days earlier for a similar scheme.
"The art market's demand for limited editions can lead to fake pieces with little value," Vance said in a statement. "In this case, the alleged fraud went beyond plain imitation, and the defendants are charged with deceiving a multitude of buyers into purchasing counterfeit art that was falsely passed off as genuine."
It is not clear which works were forged, but at least one of the counterfeit prints was the work Esculetin from Hirst's series of spot paintings.
The case marked at least the third time Vincent Lopreto, 52, has been charged with selling counterfeit Hirst works. He pleaded guilty to similar charges in January 2014 and February 2008.
His most recent scheme ran from October 2015 to February 2017, according to court papers. Buyers of the fake Hirst prints were based in the US, UK, Canada, Germany, Italy, Macedonia, South Africa, Taiwan and South Korea.
Lopreto worked with two other men, Marco Saverino and Paul Motta, to sell the counterfeit prints online, providing buyers with fake documentation to deceive them, the district attorney's office said.
All three men were charged on multiple counts of theft, or grand larceny, and scheme to defraud.
Joseph K Levene, an art dealer in New York, said counterfeit Hirst prints are rampant online. "On sites like eBay, you have people who are attracted to the art of deception because people love to be fooled with low prices," Levene told the Guardian.
READ MORE: https://www.theguardian.com/artanddesign/2017/jun/19/damien-hirst-counterfeit-art-scheme-new-york#img-1