John Avildsen, 81, Director Of 'Rocky' And 'The Karate Kid'
Jun 20, 2017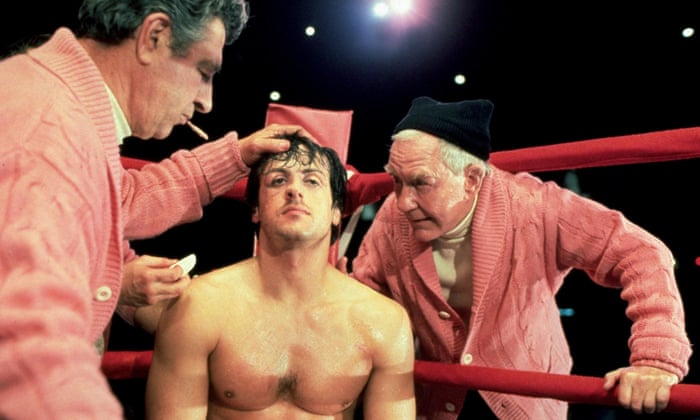 Sylvester Stallone in the first Rocky film, with Al Silvani (left) and Burgess Meredith as his cornermen. Initially sceptical about the script, Avildsen shot the film in 28 days for $1m. Photograph: Everett Collection/Rex
The director John Avildsen, who has died aged 81, enjoyed his greatest success with two hit movies about sporting underdogs. Rocky (1976) launched the career of its writer, Sylvester Stallone, who also starred as the down-at-heel Rocky Balboa, an amateur boxer with an unlikely shot at the world heavyweight title.
Avildsen, who was initially sceptical about the project but declared himself "charmed" by the script, shot the film for $1m in just 28 days; the breakneck production visited insalubrious locations in Philadelphia and Los Angeles, where Stallone noted the "hot and cold-running cockroaches." It was precisely this griminess which distinguished the film from the largely glossy sequels which followed.
He lent the meat markets, docksides and run-down gyms a desperate, unforced poetry and won a best director Oscar for his troubles. The film, which Time magazine said resembled "what Mean Streets would have been if Frank Capra had made it," took best picture. "I guess what Rocky did was give a lot of people hope," Avildsen said, "and there was never a better feeling than doing that."
Lightning struck again with The Karate Kid (1984), which relocated the formula to the world of martial arts. It was essentially Rocky Jr – or, as the director himself dubbed it "the KaRocky Kid". Once again Avildsen's sensitive eye for place (in this case, California), his fluid direction of the fight scenes ("Every kick, every chop, every spinkick is planned") and his intuitive way with actors, including Pat Moritaas the young hero's wise mentor Mr Miyagi, resulted in a project that was sincere, if not sophisticated.
John was born in Oak Park, Illinois, to Clarence, a tool manufacturer, and his wife, Ivy (nee Guilbert). He was educated at the Hotchkiss school in Connecticut and enrolled in night classes at New York University while working in advertising. He became friends with a fellow copywriter, Norman Wexler, who later wrote the screenplay for Avildsen's film Joe (1970), about an embittered, bigoted New York factory worker (Peter Boyle) with a hatred of hippies. Wexler also went on to write Serpico and Saturday Night Fever, both of which Avildsen was fired from following arguments with the producers.
READ MORE: https://www.theguardian.com/film/2017/jun/19/john-avildsen-obituary#img-1