Luxury-Brand Mogul To Build Art Museum In Paris's Old Stock Exchange
Jun 27, 2017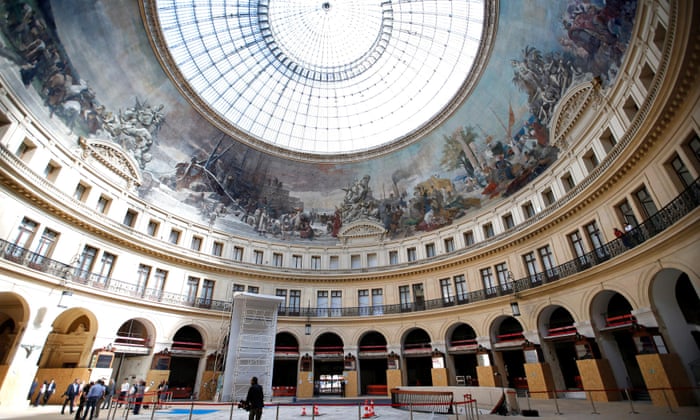 The interior of the Bourse de commerce, which the Pinault Foundation – with architect Tadao Ando – will transform into a contemporary art museum in Paris. Photograph: Charles Platiau/Reuters
It is the latest chapter in the art-world rivalry of two of France's richest businessmen: a saga of momentous contemporary art collections and a quest by their owners to build Paris museums that would transform the city's landscape.
When the French luxury goods tycoon François Pinault – once described as the most powerful man in the modern art world – stepped out under the magnificent glass dome of the former Paris stock exchange on Monday to unveil the plans for his new modern art museum, the architecture world held its breath.
For years Pinault, a self-made man whose luxury group had acquired a string of the world's most famous fashion brands, from Yves Saint Laurent to Gucci, has been searching for a Paris home for his €1.25bn art collection of more than 3,500 works, including pieces by Mark Rothko to Damien Hirst. Scuppered by red tape and building delays several years ago, he had given up on trying to build a museum on the site of an old Renault car factory on the Île Seguin in the middle of the Seine and instead took flight to Italy to set up a series of major art spaces in Venice.
In the meantime, his long-time business rival, Bernard Arnault, the owner of the Louis Vuitton luxury goods group LVMH, built his own rival Paris museum for his own art collection three years ago, in a vast 11,000 sq metre building designed by the American architect Frank Gehry.
Now Pinault is making his long-anticipated renewed bid to create a museum by renovating and restoring the former Paris stock exchange, the 19th century Bourse de commerce – one of Paris's most historically important but least known buildings.
The project, in which the Japanese architect Tadao Ando will install a giant concrete cylinder in the middle of the unique circular building, is so ambitious that Ando promised it would blast away the political malaise of the moment and soothe the wounds of Brexit.
"These are tumultuous times in Europe – the recurring terrorist incidents and the UK withdrawal from the EU have fuelled anxiety over what the future holds, and countries and people alike seem unsure of their own identities," Ando said. He promised art could provide healing, and his building would "renew hope in the future".
READ MORE: https://www.theguardian.com/world/2017/jun/26/former-paris-stock-exchange-to-be-reborn-as-major-new-art-museum#img-1