Civil rights anthem We Shall Overcome freed from copyright
Sep 18, 2017
The first verse of the song, which has come to symbolize the spirit of protest, is no longer under copyright after a New York verdict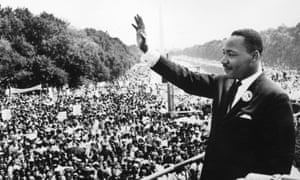 The first verse of the civil rights anthem We Shall Overcome is no longer under copyright, a New York federal judge ruled on Friday.
Described as the "most powerful song of the 20th century" by the Library of Congress, the suit against the existing copyright holders was brought last year by the same legal team who had successfully disputed longstanding ownership claims over Happy Birthday to You.
Lawyers leading the class action against the Richmond Organization and Ludlow Music, claimed We Shall Overcome was an adaptation of an African American spiritual and therefore in the public domain and had only later been adopted by folk singer Pete Seeger, copyrighted, and established as an anthem of the 1940s labor protest movement.
They pointed to Seeger's 1963 memoir in which he wrote that he'd been advised by his music publishers: "If you don't copyright this now, some Hollywood types will have a version out next year like 'Come on baby, we shall overcome tonight.'"
Read More: https://www.theguardian.com/music/2017/sep/11/we-shall-overcome-civil-rights-anthem-copyright-lawsuit