30 Publishers Reject Novel For Being 'Too ***' For Mass Market, So Crowdfunding Comes To Rescue
Oct 10, 2017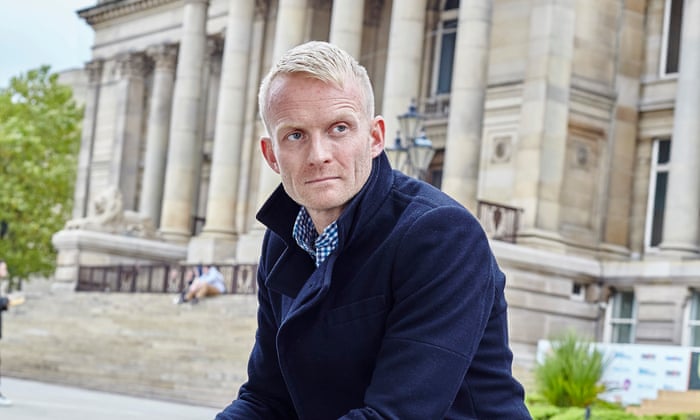 'Don't tell me there's no one out there who wants to read about *** lives' … Matt Cain in Victoria Square, Bolton. Photograph: Simon Taylor/Attitude
A novel that was rejected more than 30 times by publishers for being "too ***" has been inundated with backing from names including David Walliams, Mark Gatiss and SJ Watson after its author turned to crowdfunding.
Matt Cain's The Madonna of Bolton tells the story of Charlie Matthews, who falls in love with Madonna on his ninth birthday. The obsession "sees him through some tough times in life: being persecuted at school; fitting in at a posh university; a glamorous career in London; finding boyfriends; getting rid of boyfriends; growing up and family heartbreak". Launched on the crowdfunding site Unbound this week, it has already racked up 60% of what it needs to be published, with backers also including One Day author David Nicholls and the bestselling writer Lisa Jewell.
Cain, the editor of Attitude magazine, said the support for his book – which is on course to be the fastest-funded novel on Unbound – showed there was a market for a commercial novel about a *** man, even though publishers rejected it as "too working class, too 80s, too immersed in pop culture, and too ***".
The Guardian has seen the rejection letters, including some from major UK publishers. One called Cain's book "a little niche", while another said that "it's just such a tricky area of the market that I'm not sure this story has a strong enough hook to really appeal to a mass-market readership". One also said that "it was difficult to envisage who the reader might be".
One publisher told Cain that while "the subject of growing up in the 80s and embracing your sexuality is brilliant", it would perform better with "a more serious *****". "This type of book," he was advised, "really needs to fall into the literary fiction arena, think of Edmund White or Alan Hollighurst [sic]".
READ MORE: https://www.theguardian.com/books/2017/oct/06/novel-rejected-***-crowdfunding-support-the-madonna-of-bolton-by-matt-cain#img-1